Clinic Changes during Coronavirus
Osteopathy Clinics are allowed to be open following strict guidelines from the UK Government and our own governing bodies.
The ongoing situation with Covid-19 and recommended protocols from the UK Government and Health Ministry changing regularly, has meant opening hours and available appointments have too. It has also changed the way in which we will operate. Our Priority though is to keep our patients, as well as practitioners safe.
As Allied Health Care Practitioners it is recommended that we see emergency and urgent patients to help reduce the strain on GP's and the NHS, whilst following the correct protocols. For non-urgent patients we are able to use TELEHEALTH video consultations, for helping with diagnosis, home exercise programme or just for help and advice.
We have adjusted the clinic environment to allow for safe treatment, keeping distance where possible and using correct PPE as advised by Public Health England.
I recommend you read through these new Clinic Protocols as the environment has changed dramatically.
Please call the clinic on 01372 897497 to discuss your situation.
Osteopathy Oxshott, Surrey
Welcome to Wellmead Osteopathy where every person is unique.
We offer committed and professional osteopathic treatment and are located in Oxshott, Leatherhead, Surrey. However we have patients who travel from much further afar to come and see us.
At Wellmead Osteopathy we believe everyone has the right to an active and fulfilling life, with minimal aches and pains. We treat the person as a whole whatever the complaint and strive to get you back to normal life as soon as possible.
We treat people of all ages and in all stages of their life through childhood and into retirement. At Wellmead Osteopathy we treat the whole family.
Prevention is the best cure.
We treat – and help to prevent – a wide range of problems from back pain and everyday aches, through to sports injuries and work related ailments.
Whether you suffer from an acute injury or a recurrent complaint we are here to help make you feel better.
Please do not hesitate to contact us should you have any questions or would like to find out whether osteopathy is for you.
We look forward to seeing you.
To book an appointment, or for more information please call us on 01372 897497 or email us at info@wellmeadosteopathy.co.uk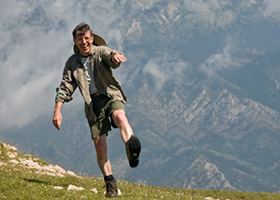 Our services
How to find us
Wellmead, Steels Lane, Oxshott, Surrey, KT22 0RF